March Economic Numbers Mixed
April 8, 2016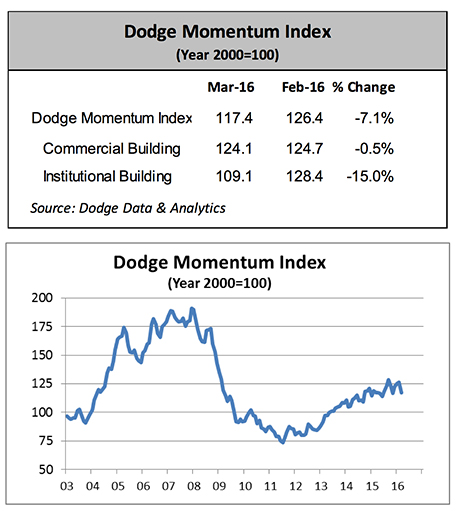 March's economic numbers paint a mixed picture for the construction economy.
Although construction employment increased by 37,000 in the month, the Dodge Momentum Index, a monthly measure of the first (or initial) report for nonresidential building projects in planning, dropped by 7 percent. Those initial reports have been shown to lead construction spending for nonresidential buildings by a full year.
First the good news. According to the Bureau of Labor Statistics, March construction job gains were highest among specialty trade contractors (+12,000) and in heavy and civil engineering construction (+11,000). All told, construction has added more than 300,000 jobs over the past 12 months.
Meanwhile, March's decline in the Dodge Momentum Index primarily reflected a 15 percent drop in institutional planning. Commercial planning fell less than 1 percent. Even with March's decline, institutional planning activity remains 7 percent above its March 2015 level, while commercial planning is down 4 percent from last year. The overall Index is essentially even with its year-ago level, a hair ahead by 0.2 percent.   Although March's Index reading of 117.4 marked its lowest level since June, 2015, it followed three months of gains, extending a volatile 12-month pattern that has featured seven monthly increases and five monthly declines.