Momentum Index Ends 2017 on a High Note
January 9, 2018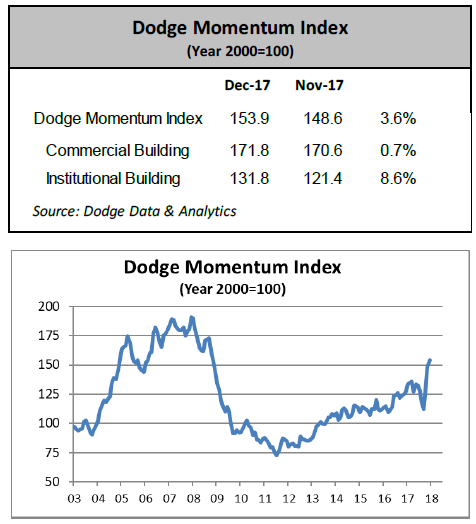 DMI Ends Year with a Bang
---
An 8.6 percent jump in the institutional component led the Dodge Momentum Index to a 3.6 percent gain in December, allowing the Index to finish the year up 10.7 percent.
The Momentum Index is a monthly measure of the first (or initial) report for nonresidential building projects in planning, which have been shown to lead construction spending for nonresidential buildings by a full year.
Although the institutional component enjoyed a significant December gain, the commercial component could only manage a 0.7 percent increase.
For the year, the commercial sector gained 11.4 percent, while the institutional sector climbed 9.7 percent, as both sectors overcame a soft third quarter.
According to Dodge Analytics, "The continued strengthening by the Momentum Index in 2017 suggests that nonresidential building construction activity will advance further during 2018."