Strong Partnership Continues with One Water Street
December 13, 2016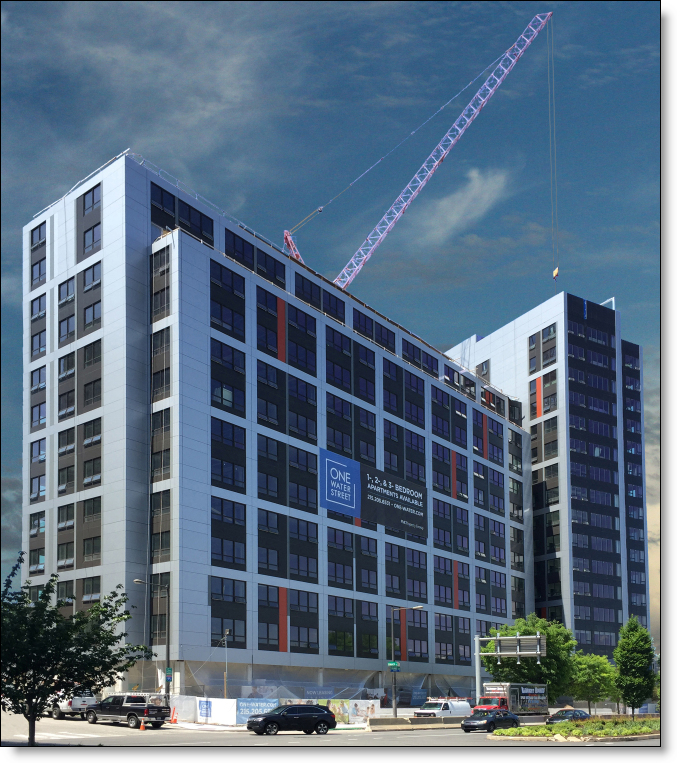 Strong relationships and a string of successes can create a continuous loop of good fortune.
And so it seems to be with PMC Property Group, the architectural firm Varenhorst, R-Tech Panel Systems and Graham Architectural Products.
After teaming up previously, including the 1900 Arch Street project in Philadelphia, the players reunited for One Water Street, a structure referred to by one writer as a "sleek, contemporary 16-story apartment house on the Delaware waterfront."
According to Michael DeRosa, Graham's VP of product development, "One Water used the same system used on 1900, including unitized receptors and our GT6200 windows.
"However, while they needed the ends of the building to look like curtain wall, they wanted to build it in a panelized fashion. So we used the 2700 window wall with a unitized receptor, similar to the one used with the window portion, but we replaced the composite panels with a spandrel glass system."
All told, the project required 42,700 square feet of window wall and 9,500 square feet of spandrel framing.
The L-shaped structure is the first apartment building constructed on the Delaware waterfront since the city completed a master plan for the area.