Strong Start To 2017 For DMI
February 9, 2017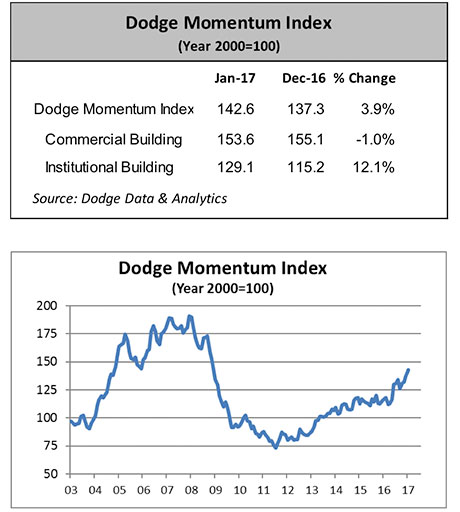 The new year is off to a good start with the Dodge Momentum Index rising 3.9 percent in January.
The Momentum Index is a monthly measure of the first (or initial) report for nonresidential building projects in planning. These reports have been shown to lead construction spending for nonresidential buildings by a full year.
Institutional planning advanced by more than 12 percent, offsetting a 1 percent drop in commercial planning. Even with the decline in commercial planning, that sector remains near an eight-year high, which according to Dodge, "suggests that commercial building will see renewed strength in 2017."
Dodge went on to say that despite volatility over the past two years, "institutional planning projects trended higher through the end of 2016, which provides some optimism for institutional building activity in 2017."
In other economic news, construction employment jumped, too. Employment in construction rose by 36,000 in January, following little change in December. Over the past 12 months, construction has added 170,000 jobs, according to the Bureau of Labor Statistics.