Sunny Outlook Continues for Nonresidential Construction
September 9, 2016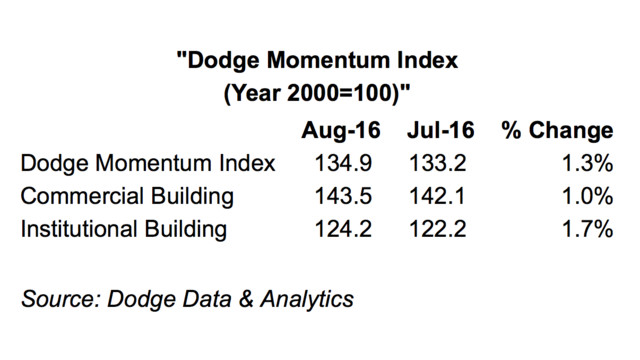 The Dodge Momentum Index climbed again in August, marking its fifth consecutive monthly advance and matching its longest streak since a five-month march spanning the end of 2012 through the beginning of 2013.
The Momentum Index is a monthly measure of the first (or initial) report for nonresidential projects in planning, which have been shown to lead construction spending for nonresidential buildings by a full year.
August's climb of 1.3 percent means the Index has increased 15.6 percent above the same month a year ago, with institutional planning up 22 percent and commercial planning up 11 percent.
During August, institutional planning grew by 1.7 percent, while commercial planning grew by 1 percent.
According to Dodge, the ongoing increases bode well for nonresidential construction spending.
Meanwhile, construction employment numbers were unchanged in August, according to the Bureau of Labor Statistics' monthly summary.