Lucy G. Moses Award is Proof of a Dream Come True
June 11, 2019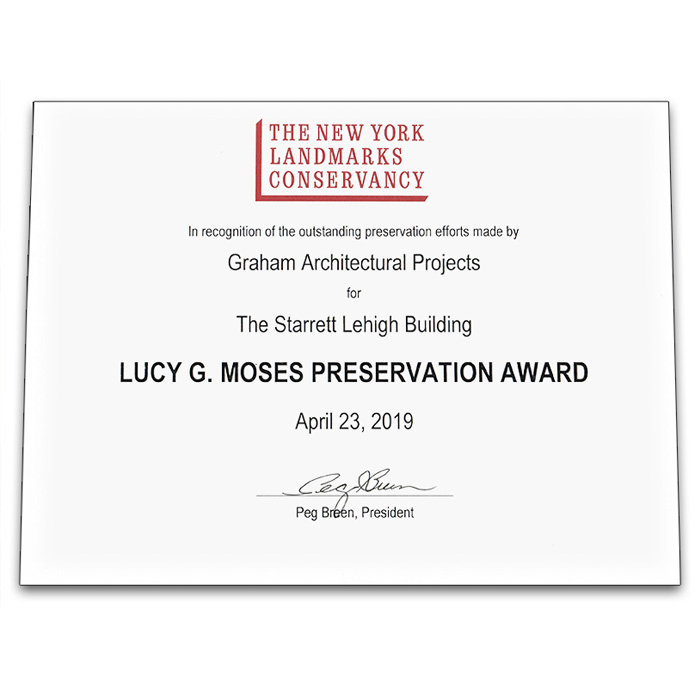 Lucy G. Moses Award is Proof of a Dream Come True
---
If, as Maurice Benor once said, the Starrett Lehigh Building is "a window man's dream," a recent postal delivery confirmed his dream came true.
For years, the Graham Architectural Products window rep had driven past the New York City landmark, longingly admiring its nearly 5,000 windows. You didn't have to be a window salesman to know that replacing them could be, as New York City's Historic Districts Council (HDC) said, "the window job of the year (if not the century)."
In 2011, Benor's dream started to take shape. He received a call from Michael Ankuda, AIA, an architect at Boddewyn Gaynor Architects, with whom he had previously worked.
One call led to another and, eight years later, Graham's completed window replacement project was being recognized with a Lucy G. Moses Preservation Award from the New York Landmarks Conservancy. We share the full story here.
In a nutshell, Graham customized a window it had previously developed for a National Park Service project in North Carolina. The new window, Graham's SR6700, incorporated the original windows' floating vent, while maintaining their narrow sightlines, and delivering the necessary thermal performance.
And Benor's postal delivery? It was a certificate from the Landmarks Conservancy, "In recognition of the outstanding preservation efforts made by Graham Architectural Products for the Starrett Lehigh Building". Proof of a dream come true and a job well done.
This is Graham's second Moses Award-winning project.  The restoration of The Home Life Insurance Building in 2013 also received a Moses Award.
---
To find out more about the Graham window and door products used on this project, contact Bruce Croak, Graham's marketing manager.