Lifting the Veil
December 1, 2017
Enthusiasm is building for "The Legacy" in Bay City, MI
---
The northwest corner of Center and Washington avenues in Bay City is looking like its former self, thanks to a $12 million restoration currently underway.
The Legacy will be a mixed-use facility with restaurant, commercial and residential space for rent. Graham is providing over one hundred eighty 1400H Series Fixed and 2200H Series Single Hung historic windows for the 127-year-old building.
A Tale of Two Identities
The Crapo Building opened in 1891 and was remarkable for its time, hailed as "the most expensive building in Bay City" by a local newspaper. The unique architecture included red and buff sandstone with green bay windows and ornate masonry designs.
The building quickly became an iconic presence in one of the city's busiest thoroughfares and housed a number of businesses including the offices of its designers, Pratt & Koeppe architects.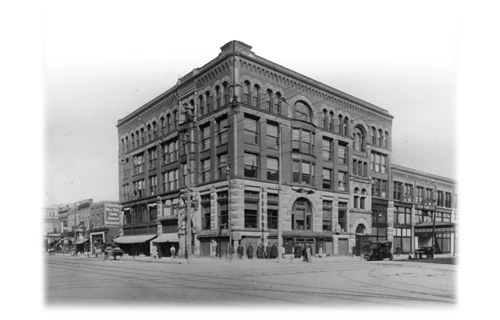 But many modern Bay City residents have only recently become aware of the building's historic beauty because it has been hidden from sight for decades.
Times change, and with them so do public preferences for structural artistry. In the 1960's the building was renovated and the decision was made to modernize its appearance. Nearly the entire structure was encased in a nondescript metal façade. The sandstone of the first two floors was removed and replaced with metal and glass storefront.
Area residents would later commonly refer to the building as resembling a cheese grater.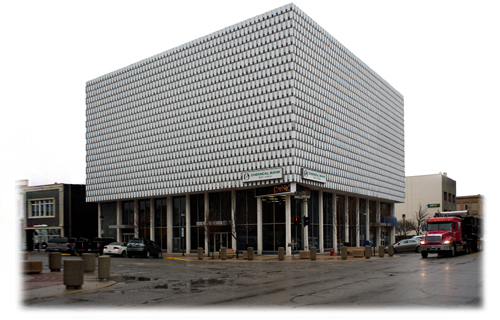 Chemical Bank was the building's most recent occupant. When the branch relocated in 2014, the future of the aging edifice became uncertain and plans for demolition were considered. News of the plans sparked a local outcry to save the historic site from destruction and gained the attention of developer Jenifer Acosta.
Acosta consulted with the National Park Service (NPS) about options for restoring the property. Interestingly, the 60's era façade was itself qualified for historic preservation as it was over 50 years old, but the developers were determined to restore the building's original appearance.
A portion of the metal siding was removed to provide NPS with visible evidence of the building's historic integrity and to draw local attention to the project. By August of 2016, the Crapo Building was added to the National Register of Historic Places and became eligible for federal tax credits to fuel the development.
A section of the removed façade was rescued from the scrapyard by local business owner Pete Hardy, who installed it as an accent wall in his yoga studio.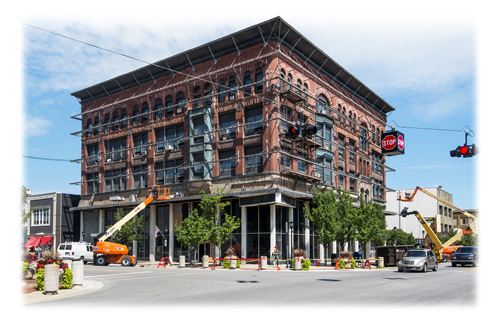 When completed, The Legacy will offer 26 luxury apartments for rent on the second through fifth floors. The main floor will host retail space, including a restaurant.
---
To find out more about the Graham products used on this project, contact Bruce Croak, Graham's marketing manager.