Volatility Continues With Dodge Momentum Index
August 8, 2017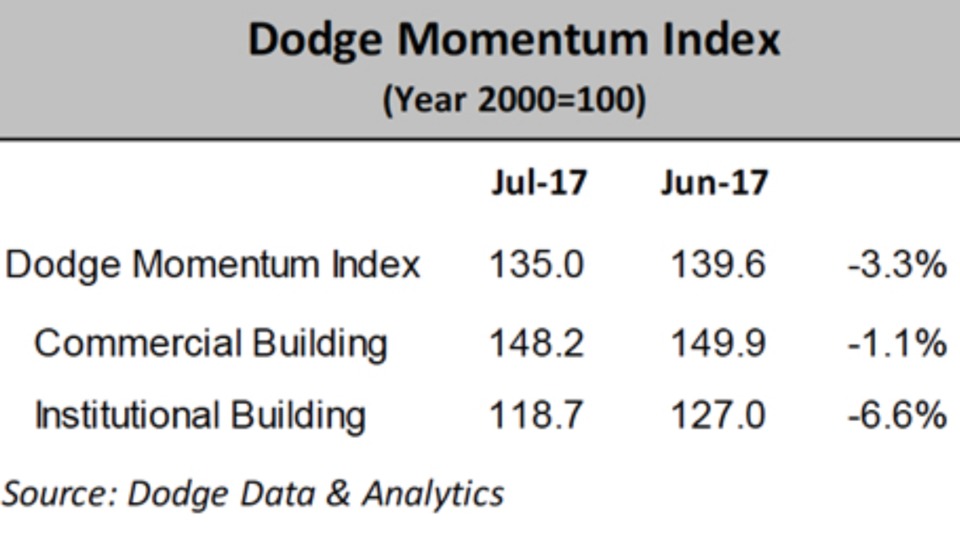 The Dodge Momentum Index (DMI) dipped in July, just another hiccup after a series of advances.
Despite falling 3.3 percent in the month, the Index is 6.9 percent higher than it was a year ago.
The Dodge Momentum Index is a monthly measure of the first (or initial) report for nonresidential building projects in planning, which have been shown to lead construction spending for nonresidential buildings by a full year.
The DMI's year-over-year advance of 6.9 percent indicates further moderate gains in construction activity through the end of the year. Overall, the commercial component is 8 percent ahead of last year, while the institutional component is up 5.3 percent.
The Index's Institutional component bore the brunt of July's drop, as it declined 6.6 percent. The commercial component fell 1.1 percent.
In other economic news, the Bureau of Labor Statistics' July jobs report showed little change in construction industry hiring, while private commercial construction spending leaped 14.6 percent over the first six months of 2017, relative to 2016, according to Wells Fargo Securities.