The Jasper flying High
May 25, 2021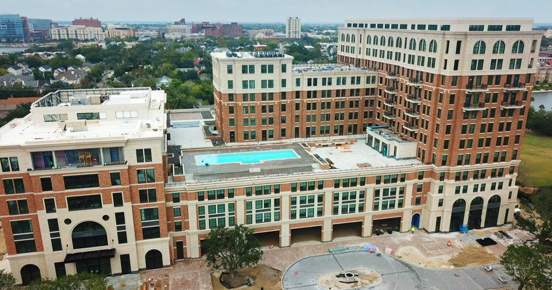 The Jasper
In May of 2020 we first reported on this historic renovation project in Charleston, SC, a 219 unit multifamily and commercial complex in the heart of this historic town.  Built in 1949 and named for a Revolutionary War hero of the Battle of Sullivan's Island, Sergeant Jasper, "The Jasper", as it is now known, has undergone a complete renovation that is now finished.
Meticulous attention was paid to retaining the historical significance of the original design, including the window selection.  Since The Jasper is located in a Hurricane zone, those windows not only had to meet the historical requirements but had to be hurricane impact rated as well.  The owner chose Graham Architectural Products to supply almost 1,200 impact resistant windows and doors including our HI1400 offset fixed windows to simulate the original double hung windows.
To help speed the installation, custom unitized receptors were incorporated, allowing window openings to quickly accept the windows.  It is also interesting to note that much of the renovation was aided by a precast facade strategy, improving quality, speed of construction, and lowering overall costs.
The video below is courtesy of Gate Precast Company, the facade supplier.
---
To find out more about the Graham window and door products used on this project, contact Jim Eisenbeis, Graham's Director of Marketing.