An Iconic Venue Gets An Overhaul
December 10, 2020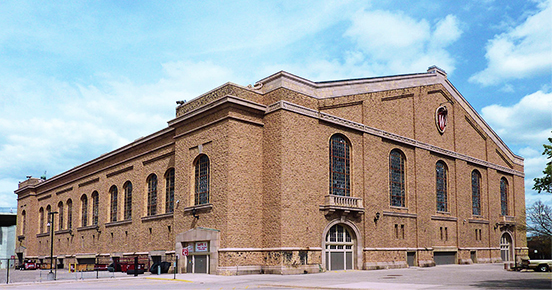 An Iconic Venue Gets An Overhaul
Renovations for the University of Wisconsin-Madison Field House are nearly complete despite delays due to the current pandemic. The UW Field House is a multi-purpose arena adjacent to Camp Randall Stadium and home to the Badger volleyball and wrestling teams.
The historic landmark, designed in a renaissance revival style, dates back to 1930 when it opened.  With a capacity of 8,000 the Field House hosted the university's basketball games. Between 1933 and 1960, the building also housed the school's boxing program.
In 1941 the Field House was used by the university's president to announce to students the attack on Pearl Harbor. The building was added to the National Register of Historic Places in 1998.
The Windows
Upgrades to the exterior envelope of the building included replacing its sizable steel framed windows with a modern aluminum solution. Some openings were as large as 11 ft. wide and 27 ft. tall.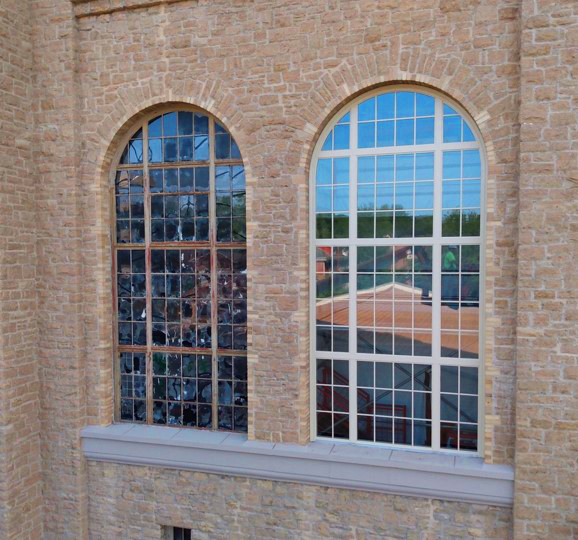 Original window next to Graham's replacement
To meet the challenge of replicating the original windows, Graham employed its SR6700 Steel Replica product. With its thin sightlines and multiple profile options, the SR6700 has become popular with landmark renovation projects, often playing a key role in clinching sought-after historic tax credits.
Design challenges also included curved frames lining up across multiple window sections. In all, Graham supplied 376 of these windows to fill 53 openings.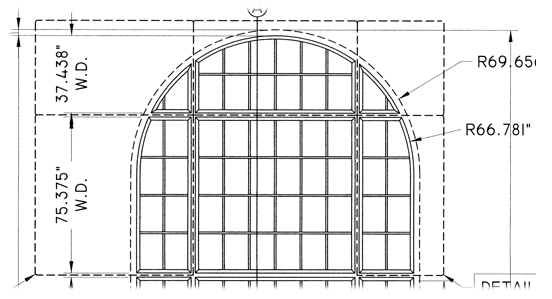 ---
To find out more about the Graham window and door products used on this project, contact Jim Eisenbeis, Graham's Director of Marketing.
Alden Park Update – New Video & Case Study
January 22, 2020
A New View of Alden Park
Graham recently revisited Alden Park and captured some video of this historic residential hi-rise which features our SR6700 Steel Replica window.
You can read about the unique challenges of this retrofit project in …
Former Cadillac Showroom Vrooms Back to Life
August 2, 2019
The nearly 100-year-old building at 6001 Cass Avenue, Detroit, Michigan will soon assume a new identity and Graham is proud to provide more than 870 windows to this beautiful adaptive rehabilitation project.
Built in 1920, the structure was originally known …
Graham's Steel Replica Window Receives Accolade
December 8, 2017
Steel Replica Window Awarded
Graham's SR6700 Steel Replica Window has been named one of Commercial Architecture magazine's 2017 Products of the Year.
The December issue of the publication can be viewed in full here.
The innovative SR6700 aluminum …
GAP's SR6700 Series Steel Replication Window Success Continues
April 27, 2016
Since introducing the SR6700 Series steel replication window in 2015 there have been several notable projects utilizing this window. In fact, many of them have been discussed on this blog. One of the latest historic renovation projects that will be using the …
GAP Unveils New SR6700 Steel-Replication Window
May 17, 2015
Graham Architectural Products has unveiled a new window designed to replicate the original steel windows used in many buildings. The innovative SR6700 Series window features a "floating vent" and large openings with minimal sight lines. Historic concave true muntins and …